Elena and Dani
Elena and Dani's creative endeavors, including well-being retreats, painting workshops, creating healthy food recipes have shown their commitment to holistic wellness and self-expression to help people reach their fullest potential. 
Their journey from Reiki energy rebalancing to Gong sound therapy and expressive art has lead them to a truly inspiring crystal & Jewellery business.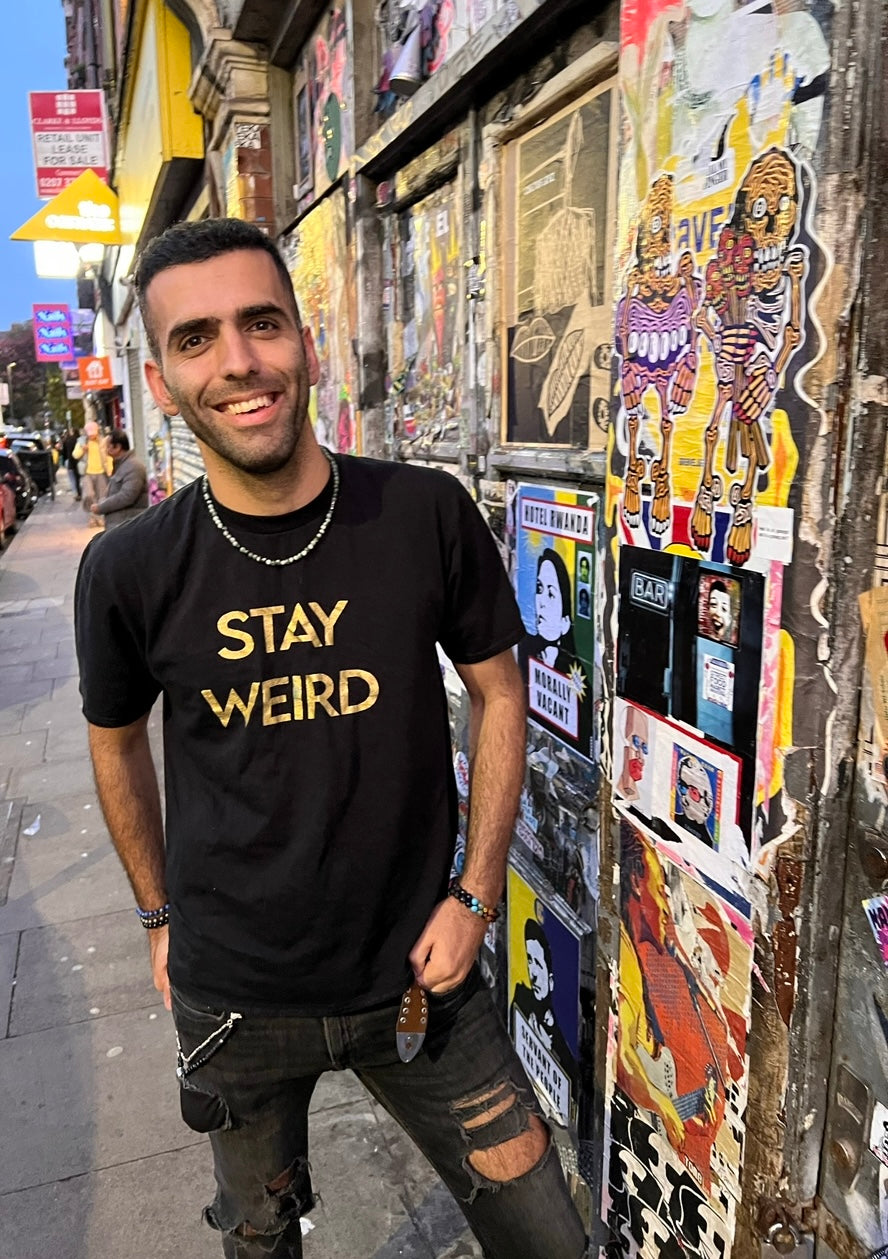 Dani Nezhad
Dani Nezhad is of Persian ethnicity. He was brought up in a City called Rusht. Dani took a big interest when his mother used to cooked interesting dishes and he asked her to teach him. 
This is when his inspiration for food began.
He has been a chef for over 10 years and has worked in Persian, Turkish, Greek restaurants in London and his journey in food has brought him to a higher understanding in what people like to eat.
He has cooked and catered for celebrities, worked at festivals
Many people are meat eaters and they would like a more exciting alternative cleaner way of eating menu. This is why Dani is very passionate about bringing this concept to the upper street markets for people from all walks and paths.
Dani will be sharing more of his cooking ideas on their social media page , don't miss out!
From Stylist to Artist 
Elena Amara always fantasised about being an artist as a child, but her path took a different journey. She trained as a stylist at Vidal Sassoon and had a wonderful career, but there was always a calling to do and follow her passion for art. It was only after her spiritual awakening back in 2005  that her life had changed forever. She had met so many wonderful masters in art and spirituality that opened her up to a whole other world, to fulfill the artists within her. After a short time, she exhibited her first piece of art, and one art followed after another. And before you knew it, Elena was showcasing her art all over London. Not long after, Elena started to use her art for her retreats, self-expressive art to help people take a journey within and be true to who they are through their art. These days, Elena teaches art for small groups, six to seven people. If you are interested in learning how to paint and draw, contact Elena and she will create the perfect classes for you and your friends.  
How did it all begin?
It was during Covid lockdown that Elena And Dani became very creative in their home and manifested the shamanic wands, made from nature including natural crystals. They were such a huge success with their social media followers the orders were flowing in, people felt they needed security, protection, connection to mother earth and divine consciousness. 
Dani and Elena's ideas kept flowing and growing, they fully trusted their process and with a lot of hard work and perseverance it lead them to their Crystal Business. 
Today they are thriving with their family Crystal Business. 
They are both passionate about ethical sourcing, Elena and Dani consciously source crystals from all over the world, specialising in large statement pieces all the way down to tumble stones. Their aim is to help as many people as they can to find their perfect crystals and guide them on their personal crystal journeys. 
They have a beautiful expanding jewellery brand which is a testament to their dedication to keep evolving and offering their customers new and wonderful products, either to wear, to carry with them or to have in the home for good energy and decor. 
Elena Amara
Because jewellery is an expression of self, and how you show up in the world should have no limits. That's why we work with trusted suppliers across the globe, using high-quality, responsibly-sourced materials to create pieces meant to last a lifetime—that feel like you.
Dan Amara
You can meet Dani and Elena every weekend at the Upmarket 
91 Brick Ln, 
London E1 6QL
From 10-6pm . 
There you will find a wide array of product, you will be sure to have a wonderful nourishing exchange of spiritual Bliss. Alchemy For The Soul in Brick Lane has become one of london's must go Crystal shop destinations. 
Book a Tarot Reading 
Introducing our dear friend  Simon, a Reiki Master and qualified Angel Tarots reader. He connects with people energetically and uses his healing energy to give the best reading and positivity when needed. 
You can find him every weekend at Brick Lane Upmarket or book an appointment for a Videocall.
Tarot is an ancient form of divination through cards where you can get some insights about your past present and future.
Reiki is a Japanese healing technique where the practitioner channels life force energy through their hands on the recipient's body, this energy reactivates the body's natural healing capacities.
Book
What crystals mean to us 
Crystals, Rocks & Gems have been used for thousands of years by ancient civilizations; the Egyptians, Aztecs, and others incorporated healing stones into jewelry, cosmetics, decorative statues, amulets, and much more—a testament to the powerful ability of gemstones to release mental, physical, and spiritual blockages.
Both our bodies and healing crystals have energetic vibrations, which makes us naturally receptive to the vibrations of gemstones as they can align our own vibrations with theirs. This is why healing crystals and gemstones have a powerful vibratory effect when placed directly on your body. This energy surges from the crystal to you, which facilitates the free flow of energy throughout the body.
Our gemstones and healing crystals serve as a tool to help connect our conscious thoughts with our body. With healing stones, the real game-changer is when you program them with a specific intention for transformation. Thoughts can be powerful because they direct energy and energy follows thought. And when you use gemstones in the process, their frequencies help to magnify those thoughts and intentions. In the mineral kingdom, there are many different crystal meanings that support a range of intentions, from wealth and abundance, balance and vitality, rest and relaxation, and more.
Crystals